Organic Centre Online Gift Vouchers
Please note: These Gift Vouchers are for our online store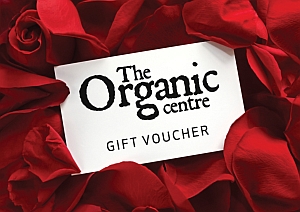 This online gift voucher will be emailed to the recipient after your order has been paid for.
An on-line Organic Centre Gift Voucher is an ideal, environmentally friendly present for Christmas, birthdays or any other occasions. Suitable for the green-fingered gardener, foodie, or eco-friendly person in your life. Vouchers can be purchased for any amount and can be used to buy any product or course on our website by the recipient. This can be done in part, in full or as part payment for an item of higher value.
The voucher is sent by email to the recipient email address provided and is easily redeemed on-line by entering the unique voucher code at checkout. You can also have it sent to your own email address. For example, if you are buying a gift voucher as a surprise for someone (but you do not want them to receive it by email), you can put your own email address into the recipient email field and it will be emailed to yourself.
Please fill in the form below to order your voucher and simply click continue. Follow the steps to complete the purchase.
Please note online gift vouchers can only be redeemed through our website. If you would prefer to purchase an in-store Gift Voucher then please phone us on 071-9854338 or email info@theorganiccentre.ie


Enter Gift Voucher Details Below
Terms & Conditions
Organic Centre on-line Gift Vouchers are redeemable through our website www.theorganiccentre.ie only and not in-store.
Gift Vouchers cannot be exchanged for cash.
Gift Vouchers purchased on-line are open-ended and will not expire.
Please treat Gift Vouchers as cash in terms of security. Gift vouchers can however be replaced if lost, stolen or damaged at the discretion of The Organic Centre.
Gift Vouchers cannot be returned or refunded, except in accordance with your legal rights.
If you have made an online payment with a Gift Voucher (in whole or in part) and you would like to return your purchase or cancel your course (see our normal terms & conditions for cancellation policy), please note that you will be refunded the amount paid by Gift Voucher in the form of another Voucher.
The Organic Centre reserves the right to change any of these terms and conditions from time to time without notice.
Gift Vouchers are issued by The Organic Centre Limited. Rossinver, Co. Leitrim. Registered in Ireland No. 8233736. Charitable Status (CHY11547).